The "Uchiwa Matsuri" is the festival for Yasaka shrine (Yasaka-Jinja) enshrined in Kumagaya.
The deity of Yasaka-jinja was divided and ceremonially transferred from "Kyoto Yasaka-Jinja" during the Bunroku-era (1592- ), which is now enshrined together with Atago Jinja situated in present day Kamakura –cho.
The first written historical record about the summer festival in Kumagaya, is a petition written in 1750 (Kanen 3) during mid. Edo period, which requested the unification of the festival carried out in various shrines and temples in Kumagaya. With the permission from the town official, the summer festival was unified, since then became the Summer Festival in Kumagaya.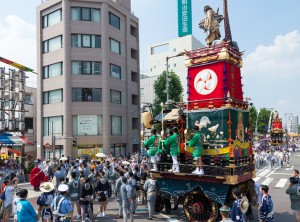 In those days, person in charge of the festival had the same authority as the town officials during the festival period, and became the festival official in charge of all festival matters.  This style and the authority has been inherited over the years.
Tempo era (1830 – ) was the revival period for the festival, and a new portable shrine (Mikoshi) weighing 200 kan (750 kg) was made. Also the ritual transferring Shinto God from the place of enshrinement (Togyo-sai) carried out by unified neighborhoods in Kumagaya, which could be said as the roots of the festival, began during that day. Also various stores started to treat customers with rice steamed with red beans (Sekihan) during the festival period, and became popularly known as "Kumagaya's Sekihan treat: Kumagaya Sekihan Furumai", which became famous attraction of the festival.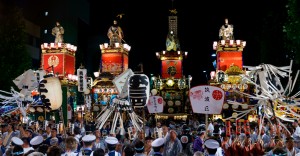 The name "Uchiwa Matsuri: round paper fan festival" originated around Meiji 35 (1897), when the proprietor of traditional Japanese restaurant "Senshuro" started to give out fans instead of Sekihan and became very popular. The proprietor of Senshuro saw the fans given out in Kanda-Myojin's "Tenno festival" during his training days in Tokyo, and bought Shibu Uchiwa (fan varnished with persimmon juice) from an old established store "Ibasen" to be given out to the customers.
Thereafter, various stores began giving out fans, and people began to say to go shopping on "Kumagaya Uchiwa Matsuri".
Concurrently, the town began to flourish due to development of silk industries and each neighborhood competently bought portable shrines (Dashi) and floats (Yatai). The present day Uchiwa Matsuri, which consists of Mikoshi Togyo (transferring God from the place of enshrinement) and Dashi / Yatai parade, was formed during this time, and today still remain unchanged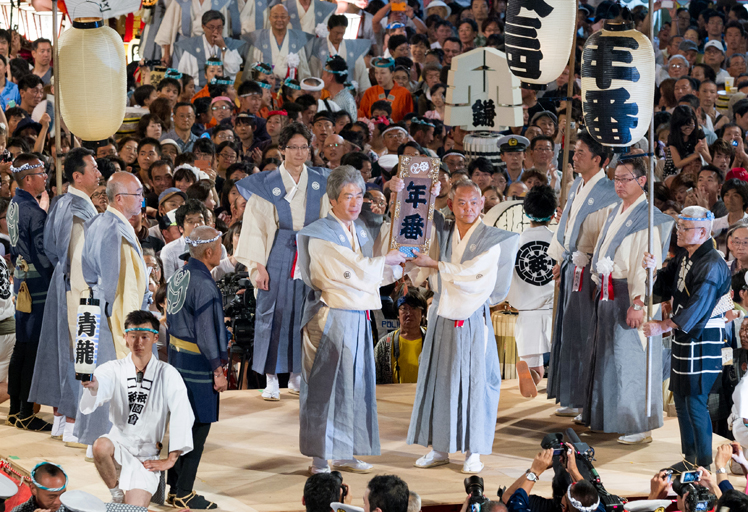 Thus, the festival has developed to the largest Gion festival in Kanto, with unified essence of "a tradition starting with all townspeople as one", "Succession of the festival culture from Edo" and "Spirit of Kumagaya people passionately creating the festival".